Rosewood Scottsdale for Adolescents
(800) 845-2211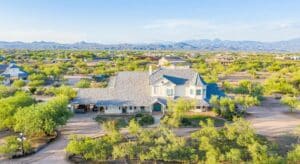 Eating disorders and adolescence are both major challenges all by themselves. For someone facing an eating disorder during their teen years, experiencing the two challenges together can be very difficult. That's why, starting in summer of 2023, Rosewood Scottsdale will offer safe and dedicated programming specifically for adolescents.
Rosewood Scottsdale for Adolescents will offer residential care for adolescents with anorexia, bulimia, and binge eating disorder. Our dual diagnosis program will allow us to treat adolescents who also have co-occurring addictions, mood disorders and psychiatric conditions. Innovative teen-focused therapies, a multidisciplinary team of professionals, robust aftercare and relapse prevention programs, a beautiful setting, and family/professional involvement are just a few reasons why adolescents and their families choose Rosewood for comprehensive recovery solutions.
Rosewood Scottsdale for Adolescents will offer a system of dynamic and gentle therapies geared to help adolescent patients feel welcome, safe and unconditionally accepted—so they can develop trust in themselves, their caregivers, their friends and family members, and others in their lives.
We will offer a family atmosphere, a community of healing where young people work together to solve problems they have in common, were cooperation rules, where experience is shared and growth is celebrated. For almost two decades, our patients and their family members have formed and maintained powerful interpersonal bonds that can last a lifetime.
Rosewood is a place of self-discovery, where young patients can come to understand how peer pressure, social pressures, self-esteem issues and body-image distortions can contribute to eating disorders. Adolescents at Rosewood learn how to tap into their own unique inner strengths, so they can exert meaningful control over their lives and habits.
Situated in Scottsdale, Arizona, Rosewood Scottsdale will provide a secluded and tranquil environment that promotes inner healing and renewed perspective. It's an effective setting for adolescents seeking lasting recovery from eating disorders and co-existing disorders—with the ideal mix of independence and structured activities where adolescents can gain a new appreciation for the possibilities that lie ahead.
At Rosewood Scottsdale, we guide each young patient gently toward a place of multidimensional healing. If the patient requires medically supervised stabilization or detox, we have the staff and facilities on-site to prioritize physical healing first. But beyond that, once a patient is out of physical danger, a deeper dive begins. Through our personalized and holistic treatment programs, young patients learn to see how their emotional, psychological, spiritual and social health all interconnect.
Our clinical staff encourages residents living together to coalesce into a peer group where it's OK to share their experiences, fears and hopes. They learn to recognize their own behavioral and emotional triggers and those of others in the group, to share techniques for redirecting their thinking in healthier ways. They practice new coping strategies together and, in the process, develop trust and form lasting family-like bonds that extend long after they return home. And they develop confidence in their own skills, their own self-worth, so they can navigate the world around them in healthy ways.
We provide comprehensive treatment for adolescents by a multidisciplinary team of experts, comprised of a psychiatrist, physician, masters-level therapists, addiction specialists, registered dietitian and nursing staff. Meeting several times throughout the week, the team creates and reviews each patient's personalized treatment plan, which is based on a series of medical, psychiatric, psychological and nutrition assessments. Our Residential program is for medically stable adolescents who need a highly structured multidisciplinary care and recovery program.
Allison & Her Mom Share Inspiring Recovery Story
Treatment for Co-Occurring Disorders is Comprehensive and Fully Integrated
Many young patients diagnosed with an eating disorder struggle with more than one clinical condition. Our experience with adults and adolescents shows this is the case with more than half the patients who come to Rosewood. Psychiatric co-existing disorders—including depression, anxiety, obsessive compulsive disorder, phobias, post-traumatic stress disorder and others—can be debilitating on their own, and can further complicate the recovery process if left untreated. In many cases, these co-existing disorders might not reveal themselves until after symptoms of the eating disorder begin to subside.
Medical co-existing disorders—such as addiction or dependence on prescription medications or recreational substances—can complicate recovery from an eating disorder, too.
The issue with all co-existing disorders is that they require treatment concurrently with (or immediately following) treatment for the eating disorder. Failing to treat both the eating disorder and any co-existing disorders usually disrupts the recovery process, leaving the patient more likely to relapse.
At Rosewood Scottsdale, we provide a comprehensive psychiatric evaluation process to identify and treat eating disorders and all co-occurring psychiatric disorders. This important distinction puts the patient in a much better position to achieve lasting recovery and reduces the likelihood of a relapse.
Hear about some of Rosewood's Success Stories
Rosewood Teen Eating Disorder Treatment Program
Teen Shares How Rosewood Changed Her Life
Rosewood Santa Monica Teen Eating Disorder Treatment
Unique Programs and Services at Rosewood Scottsdale
Our comprehensive program for adolescents combines many proven modalities used in our adult programs, adapted to accommodate the unique needs of teens. It also offers a range of adolescent-friendly features, including:
On-site school

Weekly case review with family or legal guardian
On-site adolescent psychiatrists
Intensive ongoing family program
Visiting hours and daily phone calls, as prescribed by the treatment team
Ability to treat co-morbid psychiatric conditions and chemical dependencies
Medical and nutritional restoration and stabilization if needed
Multiple therapeutic modalities including equine therapy, canine therapy, as well as cognitive and dialectical behavioral and experiential therapies
Individual and group sessions with multidisciplinary treatment team that may include a dietitian, therapist, psychiatrist, and a primary care physician
Daily schedule that includes academics, process groups, experiential activities, and psycho-educational programming
Healthy, nutritious supervised meals prepared by our on site chefs and using local ingredients
Body image programming
Life skills training
Strong relapse prevention, alumni support and aftercare follow-up programs
Non-smoking facility
Clinical programming that operates 7 days a week
Our Clinical Team Meets Adolescent Patients Where They Are
Eating disorder patients in their teen years are fundamentally different from adults. They process information differently, relate and communicate differently, and have different physical and emotional needs. They don't always respond to the same types of therapy as adults. That's why we assembled a world-class team of multidisciplinary professionals to provide integrated and innovative care specifically for adolescent patients at Rosewood.
Our care team members have rigorous clinical training in working with adolescents, but that key difference only begins to scratch the surface. The clinicians at Rosewood Scottsdale relate with teen patients on a deeper level. They understand what it's like to be an adolescent in today's society, the pressures and fears that can lead someone to develop an eating disorder, the family and developmental issues that can morph into a life-threatening condition.
Our psychiatric, dietary, medical and other professionals connect with patients in ways that foster trust, empathy, and above all, hope. Many members of our clinical team have overcome similar difficulties during their own adolescent years and can relate on a personal level with the feelings that accompany eating disorders and co-occurring disorders.
Magnificent Surroundings
Committed to quality patient care, we designed Rosewood Scottsdale for Adolescents to create a holistic healing environment. So in addition to our adherence to best practices, robust nutrition program, compassionate staff, and quality teen-focused programming, we also maintain a physical environment that takes full advantage of the absolute quiet and calm evoked by our magnificent desert landscape.
Our spectacular location is one of the attributes adolescent patients and their families remember most fondly and vividly after completing their treatment at Rosewood. The landscape features meticulously maintained indigenous plant life and dramatic topography, creating a healing environment that's conducive to self-reflection, learning and growth. The separate residential, clinical and treatment facilities for adolescents are luxuriously appointed, welcoming and inviting.
Animals Play an Important Role in Adolescent Recovery
One of our most popular treatment modalities—especially among adolescent patients—is our Animal-Assisted Therapy (AAT) program. Young patients will have therapeutic opportunities with horses at Rosewood Scottsdale. Our AAT program blends the majestic natural surroundings with focused therapeutic activities that foster growth and healing.
Adolescent patients naturally connect with animals on an emotional level. They learn to trust the animals and, in turn, learn to trust the people in their lives. This important experiential therapy helps adolescent patients learn effective new communication skills on the journey of recovery, resulting in healthier relationships.
Alishia and Her Mom Share Their Story
Aftercare and Relapse Prevention
Rosewood places continuing emphasis on strong aftercare, alumni and relapse prevention programs. The process of planning for re-entry into society starts not at the end but at the very beginning of every patient's treatment at Rosewood. And while it's always inspiring to hear from former patients in recovery, success after treatment is particularly meaningful for adolescents. It says there is hope for continuing recovery.
Many adult and adolescent patients participate actively in our alumni program. Some return to share their experiences personally with current patients. Others put their success stories into words and share them with us.
Contact Rosewood Scottsdale for Adolescents : (800) 845-2211