Eating Disorder Treatment in Tempe, AZ
Rosewood Tempe offers a unique blend of flexible, innovative services for eating disorders and co-occurring disorders in the form of general counseling, nutrition, and psychiatric services in a safe, supportive outpatient environment.
While many of our eating disorder patients require highly structured treatment based in a hospital or residential environment, Rosewood Tempe is for adults and adolescents who need a similar range of compassionate care from trained professionals while living off-campus.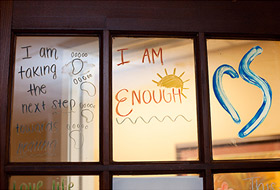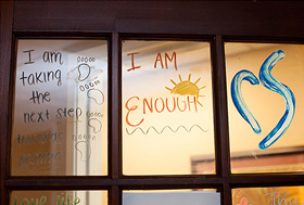 The multidisciplinary staff at Rosewood Tempe approach each patient on their own terms, at their own pace, from multiple perspectives. Some patients are just beginning their individualized treatment programs and do not need the relatively higher degree of structure available in our residential and hospital-based programs. Others are preparing to complete their more rigorous programs and benefit from Rosewood Tempe's more relaxed environment as a way to ease the transition to fully independent living.
Whether a patient is stepping up or stepping down, approaching the start or the end of their treatment process, we empower them to take ownership of their recovery—so they can become active participants in their healing process going forward.
For patients nearing the end of their eating disorder treatment, our unique and personalized program at Rosewood Tempe addresses two specific sets of interrelated concerns:
Coping skills: Many patients in the later stages of recovery worry about implementing the insights they've gained during the focused work of recovery. For example, how to manage everyday challenges relating to food and nutrition, relationships and activities, in light of their recent therapy and how to de-activate negative thought patterns when faced with an emotional trigger. At Rosewood Tempe, patients have varied opportunities to sharpen these coping skills in a safe and supportive environment, under the careful and sympathetic eye of trained therapists. These practice sessions, customized to address each patient's own real-life concerns, are invaluable for building confidence.
Life skills: Some patients enter our care only after an eating disorder, often coupled with a co-occurring disorder, has inflicted enormous damage. It can leave patients unable to care for themselves in basic ways their friends and family members take for granted. Logistical skills like running a household, holding down a job, maintaining relationships can all get lost in the chaos. After the hard work of identifying and repairing the deep psychic, emotional and physical damage, recovering patients might still feel intimidated about resuming life as it was before. At Rosewood Tempe, our professionals take full advantage of the supportive group dynamic to help patients re-acquire and practice these important life skills, so they can confidently approach independent living without fear.
Levels of Care
At Rosewood Tempe, we offer an Intensive Outpatient Program and Outpatient Services to help patients and their families deal with eating disorders and co-occurring disorders:
Our Intensive Outpatient Program (IOP) ensures a continuum of care for patients who are transitioning from a higher level of inpatient care. The Program provides regular, structured group therapy and programming throughout the week, while allowing clients the flexibility to resume their everyday activities, such as work or school.
Our Outpatient Services is for adult men and women as well as adolescents and provides counseling and psychiatric services for a broad range of issues including depression, anxiety, trauma, behavioral problems, addictions, and family or relationship conflicts. Any member of the community, including those without eating disorders, are welcome to come to Rosewood for general counseling.
Programs and Services at Rosewood Tempe
While every patient's individualized treatment plan is unique, it will likely include one or more of these services:
Nutrition Programs: At the beginning of every patient's treatment, our trained registered dietitians provide a comprehensive nutrition evaluation, along with customized meal plans based on the patient's preferences and nutritional needs. We also address patients' individual eating issues and offer educational presentations, meal planning classes, and a variety of real-world activities.
Family Involvement & Healing: At Rosewood Tempe, we know from experience that family dynamics are a crucial component in each patient's recovery process. So it's important to involve family members whenever possible. Our professionals work closely with patients and their family members and friends, to provide the essential communication and interpersonal tools that enable the patient's safe, confident return to family life. We address family issues, provide information on communication, the recovery process and lay the foundation to heal damaged elements in the family system.
Support Groups and Therapy: Our professionals host numerous support groups on a weekly basis. These sessions, intended for patients, family members and friends, provide safe and supportive settings to exchange information, share experiences, and establish connections with others who have their own perspectives on eating disorders.
Experiential Modalities: The trained therapists, psychiatrists and nutritionists at Rosewood Tempe provide a wide range of innovative experiential modalities to help each patient achieve a well-rounded recovery. These can include cognitive and dialectical behavioral therapies; educational sessions about addiction, meal planning and nutrition; group sessions that address body image, gentle and mindful eating and family issues; and art/music therapy, yoga and more.
Our Clinical Team at Rosewood Tempe
The multidisciplinary treatment professionals at Rosewood Tempe work with a wide range of adult and adolescent patients at various points in their recovery journeys. We provide deeply personalized care for patients who have unique symptoms, concerns and needs related to eating disorders and co-occurring disorders.
Our care team members, who include psychiatrists, psychologists, dietitians, therapists and other clinicians, bring extensive training to the table, allowing them to connect on a deeply personal level with each patient. We know what it's like, often from personal experience, to struggle with an eating disorder.
This level of experience and involvement gives our team members enormous compassion, empathy and authenticity. So they can connect naturally with patients who are experiencing the same feelings that characterize eating disorders and co-occurring disorders.
Directions
Our treatment location at Wickenburg is private and away from the major cities, but still convenient to downtown Phoenix, Chandler, Mesa, and Flagstaff. If you are coming to our treatment location from the Phoenix area, take highway I-10 W and follow this through Arizona State Rte 303 N and US-60 W to S Rincon Rd in Wickenburg. When you take a right on S Rincon Rd, our treatment center will be on the right.
If you are coming to our location from the Flagstaff area, take I-17S and follow that to Maricopa County. Take exit 232 and follow New River Rd, AZ-74 W and US-60 to South Rincon Rd in Yavapai County. This will connect you to US-60 W, which will take you to US-93 and lead you to our eating disorder treatment center on S Rincon Rd.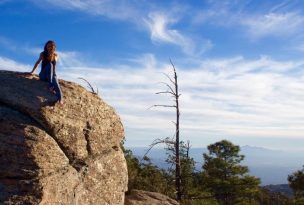 I wake up in the morning and count my blessings, excited for what the day will give. The future is bright. My life is filled with light.
Read more testimonials
Rosewood Alumni
Many of our most passionate advocates are Rosewood alumni—former patients who experienced life-altering recovery from eating disorders and co-occurring disorders with help from our multidisciplinary professionals. Many of them have shared their deeply personal experiences by writing about them for the benefit of others who might be just starting out on their own recovery journeys. There is hope, compassion and renewed strength for people with eating disorders.