Rosewood Ranch for Men and Women
(800) 845-2211
  36075 S. Rincon Road, Wickenburg, AZ 85390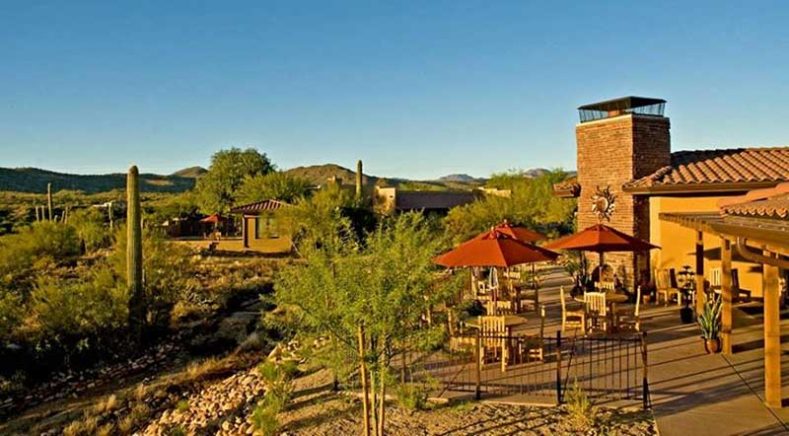 Rosewood Ranch for Men & Women offers inpatient and 24/7 residential care for patients struggling with anorexia, bulimia, binge eating disorder and co-occurring disorders. Located in Wickenburg, Arizona on 13 beautiful acres high in the Sonora desert with breathtaking views of the Bradshaw Mountains, Rosewood Ranch is the main campus location of Rosewood Centers for Eating Disorders. Our safe, secluded state-of-the-art environment provides the perfect setting for lasting recovery.
In addition to treating eating disorders, we also treat co-occurring addictions, mood disorders and psychiatric conditions. We do so through a multidisciplinary approach that includes expert medical care, innovative therapies, a team consisting of various specialties, and a superb aftercare program. Our program is nationally respected for its comprehensive patient and family-centered care.
What Leads to Eating Disorders in Adults?
At Rosewood, we treat adults who have developed an eating disorder in response to something unresolved from the past. Often times, an emotional or even physical trauma, or a stressful situation at work or home has triggered the disorder.  As the condition progresses, it can feed into reduced self-esteem and feelings of worthlessness, hopelessness and despair—and causes a downward emotional spiral.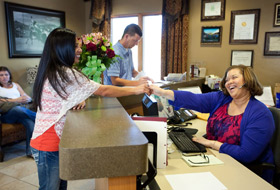 Many adults also compare themselves with role models and other idealized stereotypes. Living in a society that too often glamorizes physical characteristics like thinness and athleticism unrealistically; the comparison might result in self-shaming. Comparing yourself to a famous fashion model, professional athlete or actor never works out well. It is a fundamentally flawed perception.

Complicating the issue is the fact that some adults believe it's a sign of weakness to even acknowledge a mental health issue, much less seek help for one. Anxiety, stress, depression, and other life changing mental health conditions fuel the eating disorder and vice versa. Because of this, some patients don't start treatment until their health deteriorates dramatically.

At Rosewood, we also treat adults who have developed alcohol or drug use disorders as a means to cope with their mental health condition and/or eating disorder. We offer the most experienced experts and state-of-the-art medical facilities to treat adults with these compounded disorders. We'll welcome you just as you are, on your own terms.
Mom Shares How Rosewood Saved Her & Her Family
Levels of Care
At Rosewood Ranch for Men & Women, we offer two different levels of care to help patients and their families recover from eating disorders and co-occurring disorders:
Inpatient hospital program is for adult men and women who require medical stabilization, detox, 24-hour monitoring and other acute care services in a licensed hospital setting. Our hospital physicians and staff can deal with diabulimia, pain syndromes, physical limitations, laxative abuse, bowel function normalization as well as medical devices such as J/G and NG feeding tubes, insulin pumps and pacemakers.
Our Residential program is for medically stable adult men and women who need a highly structured multidisciplinary care and recovery program.
Comprehensive Integrated Treatment
As with other medical problems, the sooner you start treatment for an eating disorder, the greater the chance for a complete and lasting recovery. At Rosewood, we provide a series of medical, psychiatric, psychological and nutrition assessments to identify the eating disorder and all co-occurring psychiatric disorders concurrently.
Our multidisciplinary team of experts comprised of a psychiatrist, physician, masters-level therapists, addiction specialists, registered dietitian and nursing staff will review the results from your assessments and develop your personalized plan of care. Meeting several times throughout the week, the team will review and adjust your treatment plan according to your needs. Our medical team works with each resident to effectively treat and stabilize the disorder including any co-existing disorders. Private sessions with the physician, psychiatrist, primary therapist and registered dietitian continue on a weekly basis throughout treatment.
Acute Care and Medically Supervised Detox
Rosewood Ranch is able to treat the most severe eating disorder cases. Our inpatient facility can accommodate those who are too medically compromised to be accepted into traditional inpatient eating disorder treatment facilities. Rosewood also offers medically supervised detox for those struggling with addiction and alcoholism. We are the only program to offer medical detox and acute care services within a seamless continuum of care.
Hear about some of Rosewood's Success Stories
Rosewood Teen Eating Disorder Treatment Program
Rosewood Santa Monica Teen Eating Disorder Treatment
Teen Shares How Rosewood Changed Her Life
Programs and Services at Rosewood Ranch for Men & Women
Rosewood offers an array of traditional and innovative therapies to address eating disorders and co-occurring disorders. Some treatment modalities that we offer include:
Individual and Group Therapy: Individual and group sessions emphasize insight, self-awareness and empowerment to help each client to learn about themselves and grow. We also host a variety of weekly support groups with topics designed for clients, as well as friends and family members.
Experiential Modalities: We offer various innovative experiential modalities, led by certified therapists, registered dietitians and psychiatrists, to help each patient achieve a well-rounded recovery. These can include yoga, equine and canine therapy, cognitive and dialectical behavioral therapy,body image groups, addiction therapy, psycho-education art/music therapy, bibliotherapy and other modalities.
Nutrition Programs: Our experienced registered dietitians provide a comprehensive nutrition evaluation during the initial stage of treatment. They also design a customized meal plan for each resident. Each resident has the opportunity to address their individual eating issues with a dietitian in individual sessions, meal planning classes, educational presentations, and through experiential activities. Clients are empowered to listen to their body's cues as a way to reconnect with the mind-body experience through mindful eating practices.
Family Involvement & Healing: At Rosewood, family relationships play a key role in each patient's recovery process. And active family involvement is crucial. Working as a team we prepare patients, family and friends with the essential tools they need to return home with confidence and a commitment to live healthy and productive lives together.
Animal Assisted Therapy (AAT): One of our most popular treatment modalities is our Animal-Assisted Therapy (AAT) program. Patients at Rosewood have many opportunities to bond with horses, dogs, goats and other animals on our campus. Our AAT program combines the beautiful natural surroundings with proven therapies that reinforce trust while they promote growth and healing. Patients connect with our animals naturally on an emotional level. As patients develop trust-based relationships with the animals, they learn to trust the people in their lives.
Our Clinical Team Meets Adult Patients Where They Are
At Rosewood Ranch for Men & Women, our world-class team of multidisciplinary professionals provides fully integrated and innovative care specifically for each patient.
In addition to our extensive clinical training, our psychologists, psychiatrists, registered dietitians, therapists and other professionals relate with patients on a deeply personal level. We understand what it's like to struggle with an eating disorder—sometimes for years. We know how normal-seeming pressures and fears can lead directly to an eating disorder and become a life-threatening situation.
The members of our clinical team connect with each patient in a way that's empathetic, compassionate and authentic. Many members of our care team can relate personally with the feelings that accompany eating disorders and co-occurring disorders.
Aftercare and Relapse Prevention
One of the most important aspects of our continuum of care at Rosewood is our emphasis on powerful aftercare, alumni and relapse prevention programs. Aftercare planning is no afterthought: It starts on day one of every patient's treatment at Rosewood. So it's no surprise that many Rosewood alumni feel moved to share their successes with us after they complete their treatment. Each narrative is powerful and highly personal.