Holistic Therapies
Just as no two people are alike, no two people experience an eating disorder in the same way and no two patients take the same path to recovery, even when they share the same diagnosis. That's one reason why Rosewood insists on taking a holistic approach to recovery combined with other traditional therapy techniques. Our multidisciplinary teams of clinical professionals—including medical, psychiatric, psychological, nutritional and other clinicians—develop customized treatment solutions that strengthen each patient in a variety of important ways. As a result, patients experience renewed hope and empowerment as they make progress step-by-step in their spiritual, emotional, social, psychological and physical health.
What Holistic Means
Our holistic approach is one of the fundamental principles that set Rosewood apart from traditional treatment centers, and it stands at the center of everything we do. This holistic mindset means:
We treat the whole person, not just the disorder.
We take time to know you and understand the factors—positive and negative—that have shaped your life.
We dig deep to help you identify and address any underlying issues that are affecting you, even without your awareness, and that contribute to the eating disorder that's holding you down.
We approach your recovery collaboratively from many different angles at the same time: with active participation from medical, emotional, spiritual and nutritional professionals, as well as family members.
We employ an evidence-based approach, which means we use techniques and strategies that are proven to work.
A System of Traditional and Innovative Treatment Modalities
Rosewood has a wide range of therapeutic techniques we use in various unique combinations to help each patient overcome their own eating disorder and any co-occurring disorders. We call these techniques Treatment Modalities. Your multidisciplinary team will work with you to select a combination of modalities, based on your situation and goals, to address your disorder as part of your individualized treatment plan. Eye Movement Desensitization and Reprocessing (EMDR) is a form of psychotherapy that alleviates the symptoms of post-traumatic stress disorder (PTSD) and borderline personality disorder, anxiety and other co-occurring issues experienced by many eating disorder patients. The goal of EMDR therapy is to process traumatic and distressing memories, reducing their lingering effects and allowing patients to develop effective ways of coping with them when painful memories are triggered. EMDR therapy is structured as an 8-step process. Dialectical Behavioral Therapy (DBT) can help patients learn how to manage difficult emotions in a constructive way. DBT combines standard cognitive-behavioral techniques (helping patients control their emotions) with reality-testing, which helps patients accept and tolerate powerful emotions they may feel when challenging their habits or exposing themselves to upsetting situations. DBT helps patients learn key skills, including:
Mindfulness: the ability to accept and tolerate powerful emotions
Distress tolerance: the ability to calmly recognize and navigate distressful situations without becoming overwhelmed
Emotional regulation: the ability to maintain emotional balance by identifying and labeling emotions as well as obstacles to change
Interpersonal effectiveness:  the ability to effectively handle relationships, balance priorities vs. demands, and build mastery and self-respect.
Motivational approaches and interviewing techniques help patients develop the desire and motivation they need to realize true change in their attitudes and behaviors involving eating disorders and substance abuse. These techniques encourage a patient to see for themselves the negative aspects of their eating disorder or addictive behaviors, along with the positive results that come from developing a desire to change their behavior. Rather than directly advocating change, motivational therapy gives patients the space to discover the benefits of change on their own terms. This treatment modality can also prove helpful for family members. 12-step programs have an exceptionally rich history guiding addicts into recovery regardless of the substance involved or the person's socioeconomic, cultural or religious background. These systematic and structured programs, first developed in 1933, two years after prohibition ended, have also helped people throughout the world to recover from a variety of conditions, including binge eating, bulimia, anorexia and many other compulsive behaviors. In many cases where both addiction and an eating disorder are present, treating only one condition causes the other condition to intensify. Our 12-step programs also support the same goals as our aftercare and alumni programs: to give patients the skills and tools they need to avoid relapse and achieve long-term recovery. These include:
Maintaining accountability to a peer mentor
Staying connected to a community of empathetic peers
Avoiding isolation and secrecy
Establishing a one-on-one relationship with a caring mentor
Providing a place to share their hopes/fears/secrets/successes
Having an opportunity to give back by helping others in the program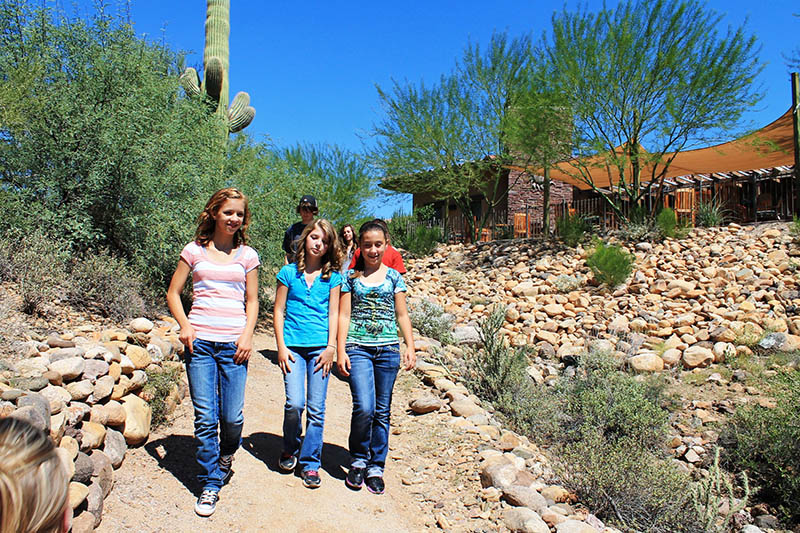 Psychotherapy helps establish a strong sense of trust between the patient and the therapist. Sessions are conducted face-to-face, often via an interactive process. In this modality patients can discuss their thoughts and feelings, exploring how each effects their mood and behaviors. By talking about these issues with a professional therapist, patients can learn to make positive changes in their mental approach and behaviors, therefore improving self-control and self-confidence, gaining a deeper sense of their authentic self. Psychodrama is a creative therapeutic method that uses guided dramatic action and role-playing to help a patient explore and confront problems. By acting out scenes that personify these problems, patients often find it easier to understand underlying emotions. Under a therapist's careful guidance, patients learn to seek new solutions to old problems, often making great strides in personal growth and developing fresh insights as a result. Nutrition is its own treatment modality at Rosewood. During the earliest stage of treatment our experienced Registered Dietitians (RDs) provide a comprehensive nutrition evaluation that assesses a patient's history and relationship with food, the progression of their eating disorder behaviors, and any medical complications or dietary allergies/intolerances. With this information the RD is then able to design a customized meal plan for each resident. Our approach to nutrition emphasizes balance, variety and moderation, and mealtimes are communal and deeply nourishing in a variety of ways. Every meal at Rosewood is a teachable moment. As treatment progresses, residents address complex and varied eating issues as they meet with a dietitian for individual sessions, participate in meal planning classes, attend educational presentations, and engage in individual experiential activities. All of these meetings and exercises are designed to provide nutrition education. Patients learn about the body's natural processes for metabolizing and gaining nourishment from food, the importance of meal planning and portion sizes, learn to be mindful of their bodies, and are given practical skills they can use to continue their recovery once they return home. Group therapy sessions help give patients perspective on many of the issues that affect their behavior. Among the key takeaways, patients learn what trauma is and how both large and small traumas may have impacted their lives; the differences between what a person experiences as a victim, survivor, or as someone who thrives; how to identify the ways in which past trauma is triggered through everyday events; and how to employ grounding tools that will help them make good choices even when triggered by overwhelming thoughts and feelings. Additional targeted sessions focus on reducing toxic shame and co-dependence.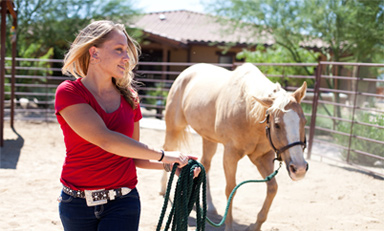 Animal Assisted Therapy (AAT): We offer experiential therapy that allow patients to interact with animals in a supervised setting. Equine therapy is a popular experiential therapy at Rosewood and is offered weekly. Patients work directly with horses, assisting in activities like grooming, feeding, and leading horses. Patients respond well to this therapy because horses are naturally non-judgmental, they have no preconceived expectations or motives, and these animals effectively respond to and reflect the emotional state of the humans in their environment. This allows patients to recognize their own dysfunctional behavior patterns, and teaches them how to define healthy relationships. Caring for an animal can teach and facilitate self-nurturing, boundary setting, reduction in social anxiety, healing from obsessive compulsive disorder, accountability, responsibility, self-confidence, self-control, problem solving skills, assertiveness, empathy, emotional awareness, and much more. Equine therapy works well as part of an individualized treatment plan for eating disorders, addiction, trauma, depression, and other co-occurring conditions. Mind/Body treatment modalities focus on the relationship between existential factors (emotions, social interactions, spirituality, behaviors) and physical health. Examples of this kind of therapy may include yoga, Tai Chi, and meditation. Each of these activities teaches patients to make conscious connections between their mental and physical states. By improving emotional and spiritual well-being, and focusing on positive behaviors and social interactions, a person can increase their body's ability to physically cope with psychological stress. Creative expression modalities offer a variety of artistic therapies based on non-verbal communication. This allows patients to quickly express emotions, thoughts, and feelings without having to put them into words. Some examples of expressive therapies used at Rosewood include art therapy, and music therapy. Creative expression modalities are based on the belief that creativity is both healing and life-enhancing. The creative process allows patients to increase insight and judgment, decrease anxiety and stress, work through traumatic memories, increase the ability to process thoughts and reasoning, improve communication skills, and decrease toxic shame.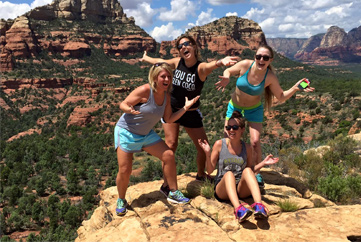 Recreational therapy provides a fun, interactive, low-stress way to participate in healing group activities. Therapeutically focused recreational activities feature moderate movement, play therapy, humor, leisure activities, and the opportunity to participate in both competitive and non-competitive groups, depending upon each patient's needs. Recreational therapy helps patients improve self-esteem, increase social skills, improve cognition, reduce depression, bond with therapists, and connect to peers. An example is the low ropes course, which is facilitated by certified professionals from Adventure Experiences, Inc. The low ropes course helps with team building, strategic problem solving, development of self-confidence, ability to trust and surrender, and simply enjoying the outdoors. It's offered weekly to Rosewood's inpatient and adolescent patients, and biweekly to our partial hospitalization patients. Body Image therapy is for patients with distorted perceptions surrounding body image. As part of our eating disorder recovery program, all patients get the opportunity to identify and understand their own body image challenges. In exploring the roots of negative body image, and the distorted thoughts that this may lead to, Rosewood helps patients develop the skills to see themselves more accurately, and increase self-esteem. Patients learn to differentiate between their inner 'eating disorder voice' and their healthy, rational voice.