Rosewood Ranch for Adolescents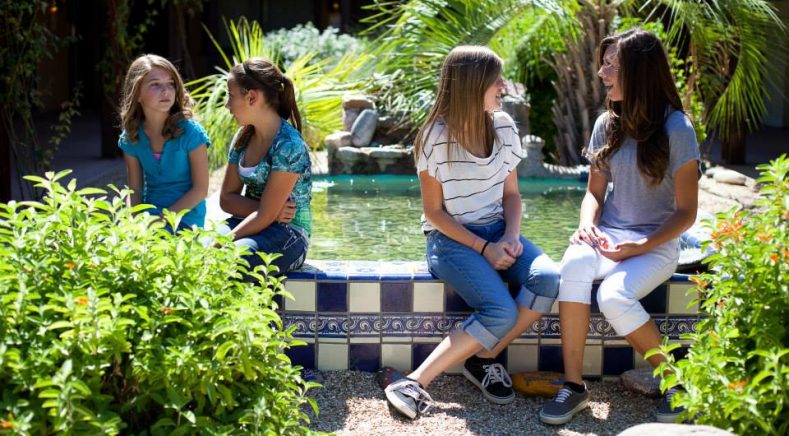 Rosewood Ranch sets aside safe and dedicated facilities specifically for adolescents age 12 to 17. We are the only eating disorder treatment program in the country to offer medical detox and acute care services within a seamless continuum of care. 
Situated in Wickenburg, Arizona, on 14 beautiful acres in the high Sonoran desert with breathtaking views of the Bradshaw mountains, Rosewood Ranch for Adolescents provides a secluded and tranquil setting for adolescents seeking lasting recovery from eating disorders and co-existing disorders—with the ideal mix of independence and structured activities. Rosewood Ranch is licensed as an inpatient behavioral facility, which enables us to offer inpatient and residential treatment for adolescents with anorexia nervosa, bulimia nervosa, binge eating disorder and other eating and co-occurring disorders.  Our acute-care inpatient treatment can accommodate patients who are too medically compromised to be admitted to traditional inpatient eating disorder treatment facilities. Rosewood also offers medically supervised detox for adolescents if needed.
Levels of Care
At Rosewood Ranch for Adolescents, we offer four distinct levels of care to help patients recover from eating disorders and co-occurring disorders:
Our Inpatient treatment program serves adolescents age 12 to 17 who require medical stabilization, detox, 24-hour monitoring and other acute care services in a licensed inpatient behavioral setting. Our medical team can deal with diabulimia, pain syndromes, physical limitations, laxative abuse, bowel function normalization as well as medical devices such as J/G and NG feeding tubes, and insulin pumps
Our Residential program is for medically stable adolescents who need a highly structured multidisciplinary care and recovery program.
Patients can step down to our day treatment programs: partial hospitalization and intensive outpatient programming.
Programs and Services
Our comprehensive program for adolescents combines many proven modalities used in our adult programs, adapted to accommodate the unique needs of teens including:
On-site school facility
Weekly case review with family or legal guardian
Full-time, on-site adolescent psychiatrists
Intensive ongoing family program
Visiting hours and phone calls, as prescribed by the treatment team
Ability to treat co-morbid psychiatric conditions and chemical dependencies
Medical and nutritional restoration and stabilization if needed
Multiple therapeutic modalities including equine therapy, cognitive and dialectical behavioral and experiential therapies
Individual and group sessions with multidisciplinary treatment team that may include a dietitian, therapist, psychiatrist, and a primary care physician
Daily schedule that includes academics, process groups, experiential activities, and psycho-educational programming
Meals prepared by our on site chefs and using local ingredients
Body image programming
Life skills training
Strong relapse prevention, alumni support and aftercare follow-up programs
Non-smoking facility
Clinical programming that operates 7 days a week
In-Network With Most Insurance Plans
Accreditations & Memberships

Joint Commission Gold Seal of Approval

Residential Eating Disorders Consortium

National Eating Disorders Association

Eating Disorders Coalition

The Alliance for Eating Disorder Awareness

International Association of Eating Disorders Professionals
Great place to start recovery and get the help you need. Recommend very highly.