Located minutes from Rosewood Ranch in Wickenburg, Arizona, Rosewood Capri is a comprehensive day-treatment program, following the same model of care as Rosewood Ranch, but in a less structured setting. Rosewood Capri in Arizona offers residents the opportunity to practice real-life skills during their treatment, and can serve as either a point of entry into primary treatment, or as a step down from a more intensive program.
While living at Capri, residents participate in a structured, comprehensive day-treatment program facilitated by our skilled multidisciplinary team of clinicians, nutritionists, psychiatrists and other professionals. Residents learn coping skills and strategies while participating in real-world activities such as meal planning, cooking, grocery shopping, meal outings and wellness activities. Our program operates seven days a week.
Rosewood Capri's upscale design closely resembles the main campus of Rosewood in Arizona, making it easy to transition seamlessly from one level of care to the next. The Capri building features comfortable and spacious, state-of the art, treatment spaces and client rooms, warm colors, and rustic western decor to give the center more of a home-like feel. Rosewood Capri is the perfect environment for clients to put their recovery skills into action.
A Safe Environment to Practice Coping Skills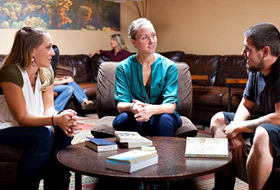 One of the biggest concerns among eating disorder patients is how to transition from a less-structured program like our Arizona Rosewood Capri back to the real world. When you're feeling fragile and unsure of yourself, how do you manage your first restaurant meal with friends? How do you remind yourself, gently and lovingly, that you don't need to step on the bathroom scale every time you look at it? How do you summon the courage to not use unnecessary prescription medications you used to rely on to support your destructive eating habits?
Patients at Rosewood Capri have opportunities to learn and practice a full range of coping skills, so they can be more confident when they face situations like these in real life.That confidence, in turn, builds upon itself by helping patients adjust faster, more securely, to life after treatment. And it makes them less likely to relapse. With guidance from our trained and empathetic staff, patients take advantage of our supportive healing environment at Capri, along with the accepting group dynamic that develops among patients themselves. People preparing to make the same transition at the same time have a way of supporting each other—in subtle but powerful ways.
Regaining the Skills Needed for Daily Life
For many patients, an eating disorder, often coupled with a co-existing psychiatric or medical disorder, can erode the ability to just manage a day's normal activities. Before starting treatment, someone with a severe case of anorexia, for example, may become barely able to function because the eating disorder occupies so much of their attention. The normal skills most people take for granted might seem extraordinarily difficult for someone struggling with an eating disorder.
It's not unusual for a patient in recovery at Rosewood to have concerns about regaining these second-nature adult routines, which are known as Life Skills. The ability to manage a relationship, to get to work on time, to shop for groceries, to make sure the pet gets exercised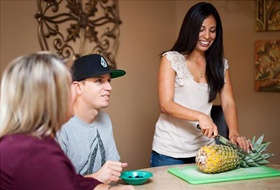 and fed: these are all examples of life skills patients worry about when they prepare to transition from active treatment and back to their lives. It's a concern shared by many eating disorder patients. Yet those in their social and professional circles—family members, friends, co-workers—often have trouble relating to this experience.
Rosewood Capri factors this important step into our transitional treatment regimen. With guidance from our trained staff members, patients at Capri form healthy and supportive bonds of friendship among themselves. This dynamic creates an emotionally safe space in which to air their concerns and walk through the routines that once seemed entirely mundane. And with this lifestyle practice period, patients develop the self-assurance to approach life with renewed confidence in their ability to manage daily living responsibly.
This insightful patient care component is one of the innovative factors that distinguish Rosewood's seamless continuum of care from other programs.
Levels of Care
At Rosewood Capri, we offer two different levels of care to help patients and their families deal with eating disorders and co-occurring disorders:
Our comprehensive and individualized Partial Hospitalization program contains many of the same elements as those available at nearby Rosewood Ranch. Our Transitional program is ideal for patients preparing to return to work or school after treatment.
Residents participate in an onsite, structured and comprehensive day treatment program facilitated by our skilled multidisciplinary team of clinicians, dietitians and psychiatrists. Residents learn coping skills and strategies while participating in life-management activities such as meal planning, cooking, grocery shopping, meal outings and wellness activities.
Our Partial Hospitalization program is for adult men and women who require a significant degree of structure and monitoring, without needing constant inpatient-level hospital care. Residents benefit from multiple opportunities to hone real-life coping skills through life-management activities such as grocery shopping, meal planning and preparation, dining outings and wellness activities.
Our Transitional Living program is for adult men and women who have completed an inpatient, partial hospitalization or residential program and want a safe and supportive environment to prepare for the challenges of transitioning back to life after treatment. Patients can take advantage of emotional, logistical and professional support in an accepting atmosphere as they build upon the foundational gains they've achieved, practice life skills, and develop confidence.
Programs, Services and Modalities
Our licensed counselors and eating disorder experts provide flexible programs that address the unique needs of every patient holistically. Using the patient's individualized treatment plan as a roadmap, we help patients progress on their own recovery journeys through a combination of proven therapeutic modalities. These can include:
Individualized and group counseling sessions
Psychiatric consultation
Nutrition support, including nutritional consultation, supervised meals, meal processing, meal planning, meal outings and cooking classes
Experiential therapies including body image therapy, art therapy and equine assisted therapy
Psycho-education
Life skills, which may incorporate self-esteem, support system, assertiveness, stress management, money management, humor, safety, and more
Our Clinical Team Helps Ease the Process of Completing Treatment
Patients at Rosewood Capri have the advantage of working with some of the best trained, most compassionate clinical professionals in the field of eating disorder recovery. Our world-class clinical staff members have the skills to provide deeply personalized care for patients preparing to complete their treatment at Rosewood. They also have the empathy, compassion and genuine concern needed to see each patient holistically—as a complete and fragile person, not just a diagnosis.
In addition to helping patients learn, practice and cement their newly learned skills, our clinical staff members are particularly sensitive to the needs to patients needing a little extra practice, a little extra encouragement. They know from experience—often first-hand experience—that confidence can mean the difference between a graceful soft landing and a difficult transition following treatment for eating disorders and co-existing conditions.
For many patients, Rosewood Capri is the last stop in a voyage of self-discovery, growth, acceptance and meaningful change. It's often a time for patients to reflect how far they've come, how much they've achieved, before re-launching their lives. For the benefit of others struggling with eating disorders and co-existing disorders, perhaps considering whether or not to seek treatment, many Rosewood alumni share their own deeply personal stories.
Directions
Our treatment location at Rosewood Capri is located northwest of downtown Phoenix about an hour out. If you are coming from Phoenix, merge on to I-10 W and follow for 19 miles. Then, take the exit toward Arizona State Rte 303 N and continue for another 10 miles. Take the exit toward US 60 and when you reach the traffic circle, take the 2nd exit onto E Center Wickenburg Way. Continue on E Wickenburg Way and our treatment center will be on your left.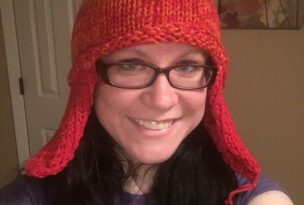 I felt like I belonged at Rosewood, and they understood me, as opposed to previous placements.
Read more testimonials