For people with eating disorders, the kitchen can be a place more associated with stress and anxiety than comfort and joy.
Mark Wilkins, a behavioral health tech and cooking instructor at Rosewood Centers for Eating Disorders, is helping patients bring happiness back to chopping, dicing, baking – and eating – flavorful, homemade dishes.
"We're trying to awaken in them a sense of being comfortable in the kitchen, and to teach them that cooking can be fun and rewarding," Wilkins explains. "Part of that is giving them new experiences of not only what to cook, but exposure to various cooking methods, whether that be grilling, baking, broiling, slow cooker, microwave, stewing, boiling, and my favorite, the Dutch oven."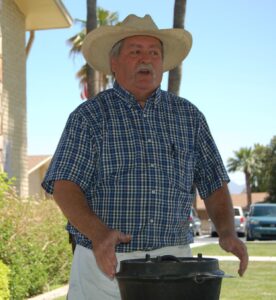 Understanding patients' struggles
Wilkins, a father of five known for his big heart and mastery of cooking in a Dutch oven, didn't expect to find a home working with patients with eating disorders. He drove a truck, did road construction and was between jobs when a nurse he knew suggested he apply at Rosewood.
Wilkins thought he might understand some of what patients struggling with eating disorders and co-occurring addictions were going through. The oldest of his five children had died of a drug overdose, a loss that devastated his family. He knew how serious the stakes were for patients and their families, and he wanted to help.
Wilkins became a certified behavioral health technician and quickly grew to love the job. "If they're stressed out and isolating, you sit with them and offer them support. We encourage them not to give up on their battles. It's a roller coaster ride for them," Wilkins says.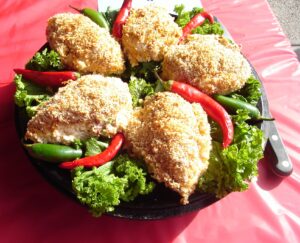 Carving out a role as a cooking instructor
To help keep his mind occupied after his son's death, Wilkins cooked. He owns an 1894 chuck wagon, a vintage "kitchen on wheels" used to feed pioneers and cowboys on the prairies in the days before cars. Wilkins often gets together with groups of history buffs for chuck wagon cook-offs, where he prepares everything from rosemary garlic rolls to chili to pizza in a black iron pot (a Dutch oven) heated over a fire.
At Rosewood, patients eat some meals together and prepare others for themselves, or for the group. One evening, Wilkins was working late, so he whipped up a meal in the kitchen. The aroma drew patients. He found that some had little to no experience cooking, but they were interested in learning.
Out of that grew Wilkins's weekly cooking classes. Clients learn food prep skills and to prepare recipes, which everyone is invited to share in. Some patients need to start at the beginning – how to make a pot of spaghetti, for example.
If they're craving for a certain dish, Wilkins teaches them to cook it. One patient was in the mood for spicy seafood, so he taught her to make shrimp diablo, which she then made a few days later and shared with her peers at Rosewood. Another class was salsa day — they whipped up accompaniments for fish tacos that included pineapple jalapeno salsa, salsa fresco, and guacamole. He made one client a birthday cake.
"With their various dietary needs, likes and dislikes, I try to explore what their experience is up to this point. What are their favorites to eat and prepare? Do they like spicy foods? Chicken? Pork? Fish? Are there any ingredients they lean toward, or are open to try? Then we tailor a dish for them individually, or even for the group if they so desire, and prepare it together," Wilkins says.
One of the biggest hits was freshly baked bread. "One client expressed she had never made bread before, so we chose an evening for me to teach her, and it turned in to a class of six wanting to learn. They kneaded, watched the dough rise, formed the rolls, then baked them to a golden brown," he says. "Then it turned in to 11 patients wanting to taste test these aromatic rosemary garlic rolls."
Wilkins has also taught clients to prepare his award-winning blackberry and green apple cobbler. Though eating dessert is optional, "the one who struggled the most with food was the first one to get up and try it," he says.
Wilkins believes the new skills patients learn in the kitchen will help them long after they leave Rosewood. "When they get here, they are so withdrawn. They have such anxiety and such a fear of the food, you can see it on their face," Wilkins says. "To take them under your wing in the cooking class, to watch them open up and learn those life skills, and to see them embracing the food preparation, is really exciting."