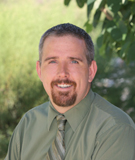 We are pleased to announce that long time Rosewood employee, and experienced clinician, Lee Neagle, MA, has become the new Executive Director for Rosewood Centers for Eating Disorders. In this role, Lee is responsible for all functions of Rosewood, including the oversight of all levels of treatment across our expansive continuum of care.
It is my mission to create a nurturing environment, where clients can begin the process of healing, an environment where they can get to the core pain of the disorder and integrate healthy coping skills.
Lee was offered the executive role based on his previous outstanding performance as Executive Operations Manager. Lee has also been highly instrumental in the development and implementation of Capri, Rosewood's Adolescent Treatment Center. Due to Lee's efforts and commitment to patient care, today this program is one of the premier adolescent treatment centers in the country. These accomplishments are just a few reasons why Lee is the prime choice for our new Executive Director.
Several of Lee's primary goals include working closely with Dr. Dena Cabrera, Rosewood's Clinical Director, and Hunter Taylor, Staff Development Specialist, to ensure consistency in both the training goals of Rosewood staff and in seamless patient care delivery. He notes, "It is our multidisciplinary model of team collaboration that incorporates each member's specialties and strengths to meet our daily program challenges." Rosewood's seasoned team leaders also includes Dr. Steven Karp, Chief Medical Officer, Megan Kniskern, Director of Nutrition Therapy Services, and Billie Church, Lead Family Therapist. "This incredible team and their incredible passion for helping our patients and families makes Rosewood the very special place it is today." Rosewood's leadership and tradition remain intact. We work diligently to engage our patients in the difficult and courageous journey of recovery. "Targeting the treatment needs and specific resources required by patient families is also a key Rosewood focus," states Lee. "We continue to build our relationships with outpatient providers. We know it takes a team effort to overcome eating disorders."
Lee states, "It is my mission to create a nurturing environment, where clients can begin the process of healing in an environment where they can get to the core pain of the disorder and integrate healthy coping skills."
About accepting the Executive Director position he says, "It is humbling to be in this position. I look forward to overseeing this great program and honoring our clients, and the providers that trust in our ability to deliver a consistent, caring, and compassionate environment while also challenging the insidious nature of the eating disorder."