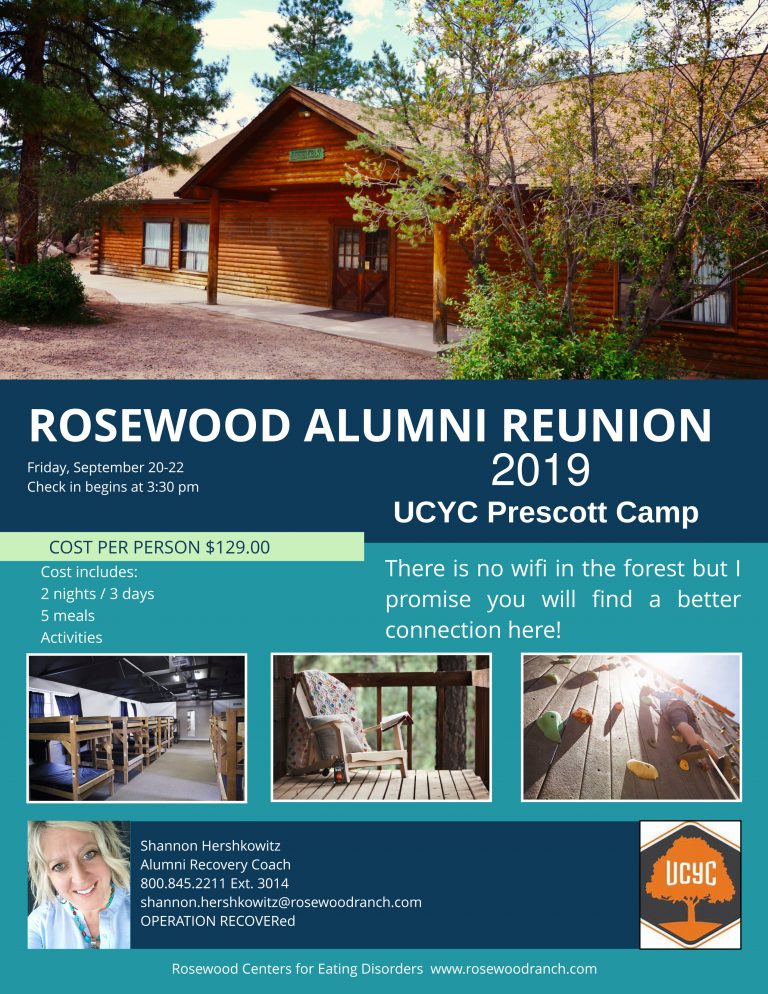 The reunion will begin Friday evening at 3:30 pm, September 20th and ends Sunday, September 22th. The reunion will take place at the UCYC Prescott Camp. We will be sleeping in cabins with bunkbeds. You may bring your own sleeping bags and pillows or you may purchase a bundle from the camp that includes linens, towels and a pillow for $20.00. Please bring your own shower shoes, toiletries and insect repellent. Meals will be served as camp food. There will be vegetarian and gluten free options. No alcohol. Please bring tennis shoes and a sweatshirt for evening wear.
We are looking forward to seeing our alumni! Come and say hi, reunite and have fun while building your support team.
Payment deadline is September 1st. No exceptions!
Date: September 20 – 22
Location: 1400 Paradise Valley Rd, Prescott, AZ 86303
Room rate: Rate is $129/person. Please make check or money order payable to:
Rosewood Centers for Eating Disorders
c/o Shannon Hershkowitz
774 W. Wickenburg Way
Wickenburg, AZ 85390
Please contact Shannon Hershkowitz at 928.231.0053 for more information.
Please fill out the form below to complete your registration.
[Formstack id="3093575″ viewkey="FIaPrE8de3″ ]